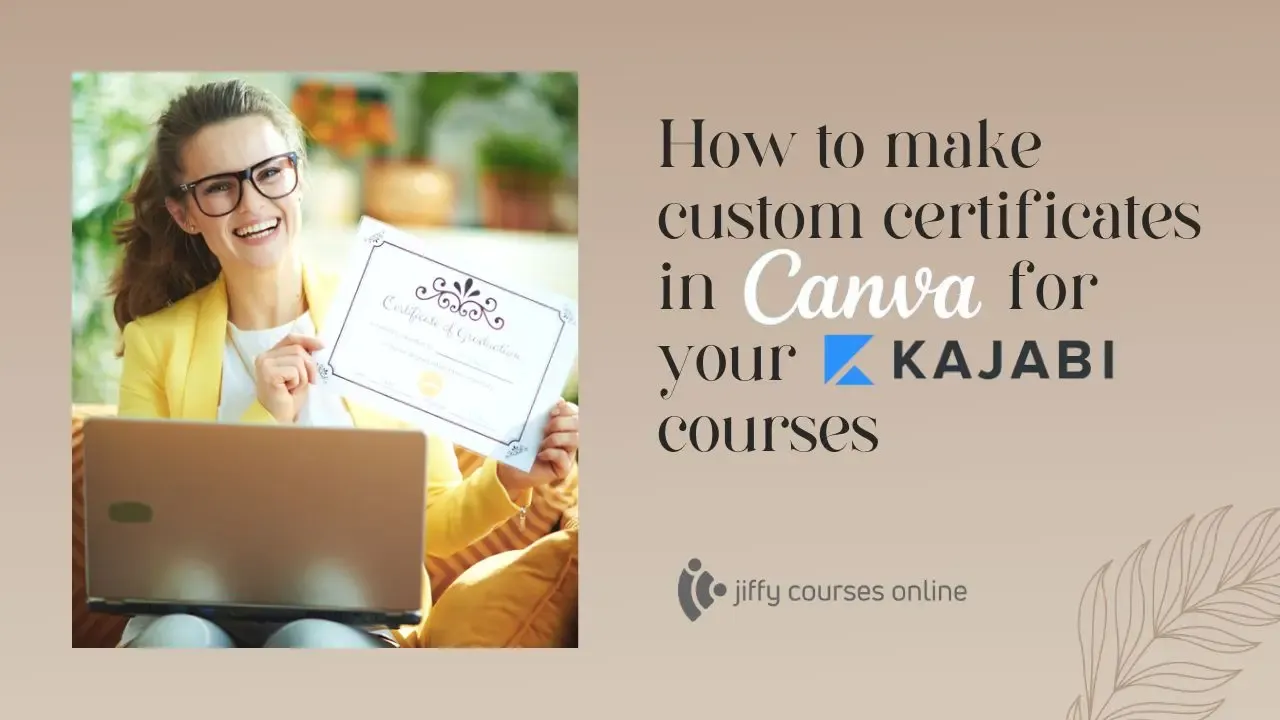 How to make custom certificates in Canva for Kajabi
Feb 13, 2023
How many diploma's do you have? From high school graduation to your driver's licence. From a Bachelor's degree to Master's degree. A diploma or certificate is incredibly useful to have. With a certificate, you can show that you have completed that course or training. That the mission is accomplished. That you excel at something, you're an expert in a particular field.

Kajabi recently added an option to be able to send certificates upon completion of your course. Unfortunately, the styling is a bit limited (read: there isn't any). But with a little extra help (from us! 😀), you can add your own beautifully custom made certificates to your Kajabi courses!


What is a certificate and why do you use them?
A certificate is a written statement you receive after completing a study or course, for example. It allows you to show and prove in black and white that you have successfully completed this study.

For your students, the certificate provides extra stimulation. With the certificate they can prove that they have acquired a certain skill while following your course. In addition, you can make your course more visible. It is a way to give your course more prestige and it confirms your status as a coach or trainer. Your successful student proudly shows the certificate to others. This works as word-of-mouth advertising. It also makes your training more interesting as an accreditation training.

Earlier we told you in which ways you can apply certificates within your Kajabi courses.
In this blog, we will specifically talk about how to create a beautiful certificate in Canva (affiliate).


Creating certificates in Canva
In Canva, type "certificate" in the search bar. You will now see a whole database of examples. Click on one you like and it will open in a window for you to edit. You can also choose to design your own certificate from scratch. Then click on an example template so that you have the correct image size.
Edit or design the certificate as you like. Be sure to remove the name that is in the sample design. Download your design and save it as a JPG.


Examples of certificates
To give you a little inspiration, I'll show you some examples of certificates.



Uploading certificates in Kajabi
Within the Kajabi Gamify Pro template (both in Premier and Momentum), there is an option to upload your own designed certificate. In the Gamify Certificate Sidebar you can see a demo displayed. There's also the option to set up the certificate in the Gamify Certificate Dashboard. In both cases, you can upload your design, assign a trigger: via Offers or a certain completion rate.
The standard Kajabi variant requires your students to have completed 100% of the course and watch all the videos in full. For you and your course, this may not be necessary, which is why we created this option that allows you to decide what percentage of the course must be completed to earn the certificate.
You also have the option to never show or always show the certificate.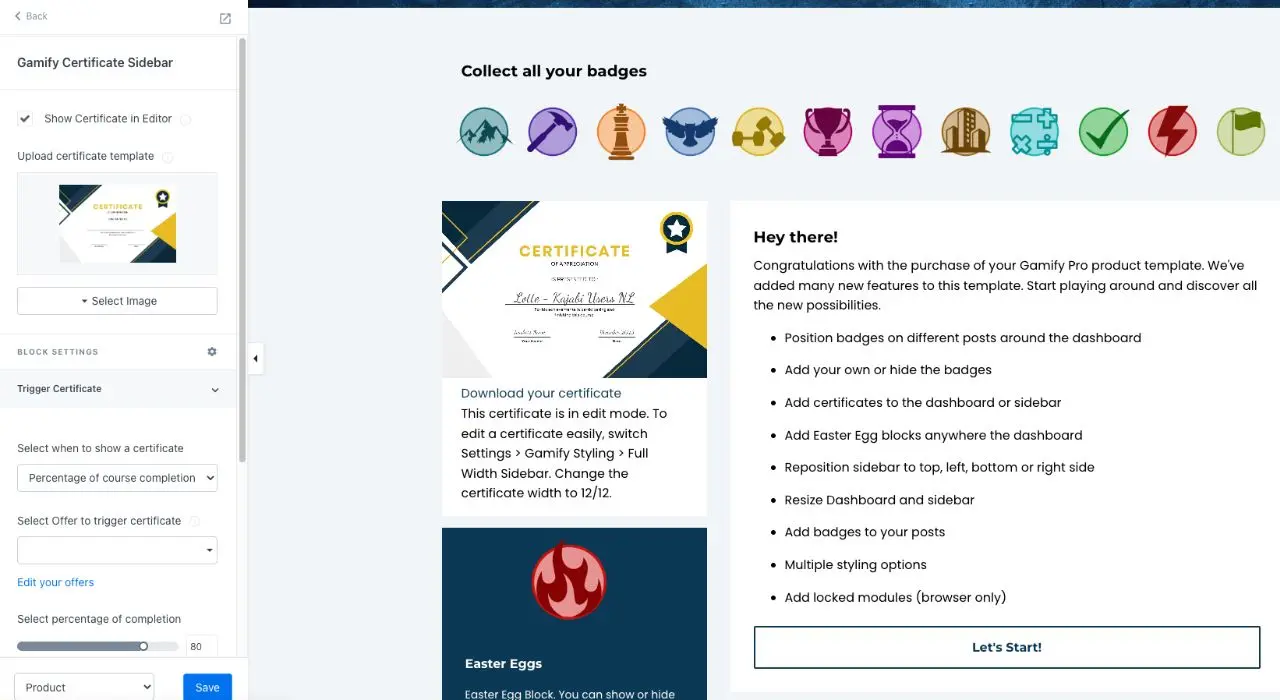 Styling the certificate in Kajabi
We have added some options to the certificate editor, to style your certificate yourself:
Text field: Student name - How big (or small) the name becomes visible. The student's name that appears on the certificate is the user name they entered when they registered for the course;
Text field: Date - You can choose whether a date is visible and you have the option to adjust the position and size of this text;
Text field: Extra - You can add an extra field in it, for example your own name (again you can adjust the size and position of this text);
Certificate Body - This is the text in the block below the certificate image. You can also leave this blank. It is useful to fill in the title, e.g. 'Download your certificate here';
Certificate Styling - These are adjustments how the certificate appears in the template. You can make it bigger or smaller, wider or higher, depending on the size of your certificate (horizontal or vertical).

In this video Bastiaan explains step by step how to upload the certificate in Kajabi
Getting started with certificates in Gamify Pro
Do you also want to get started with certificates in the Gamify Pro template? We have developed the template in two versions, for both the Momentum and Premier template. Read all about Kajabi Gamify here and watch the short introduction video in which Bastiaan shows you the possibilities of this playful template.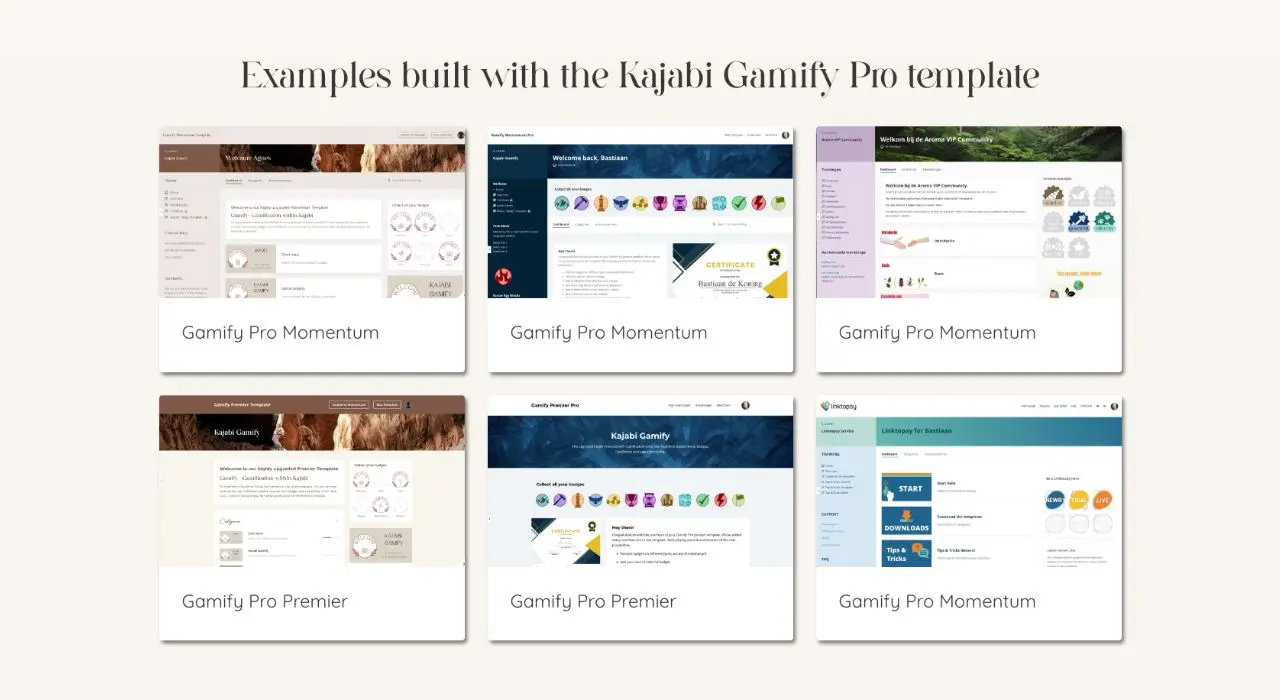 Already sold? We totally understand! Click here to purchase the Kajabi Gamify template. We now have an amazing combi-deal. Kajabi Gamify for Premier and Momentum with a discount of €100!
Yes, I want Gamify Pro with a discount
We're curious to see your custom certificates. If you have any questions, let us know!

Agnes & Bastiaan - Online Course & Kajabi Specialists since 2014

On this Jiffy website we share some of our best templates to take your Kajabi to the Next Level. Plus stylish templates to make your website, landingspages and products look amazing in a jiffy. Have a question? Send us a message, because we love a challenge!
Contact us