The ultimate Kajabi tool to create awesome looking blogs that will drive traffic, and boost business growth. 
MEET THE
Awesome Blog Creator
Are you a blogging Kajabi entrepeneur..
Looking for ways to create stunning blogs that truly stand out?
Looking to unlock more creative possibilities for your blog posts?
Looking for ways to make more money with your blog posts?
We have great news for you!
Did you know? A visual stunning blog not only captivates readers longer but is also more share-worthy on social platforms. Pair that with top-notch content, and you're looking at improved search rankings and driving more organic traffic to your site. 
The blogging options within Kajabi are limited. That's precisely why we've been working on a new and very special tool - introducing the  Awesome Blog Creator. 
Why? Simple. We love Kajabi. Let's make it even better.
Though we're still fine-tuning the tool, the official launch is just around the corner. Would you like to be among the first to know and receive an exclusive discount? Jump onto our list!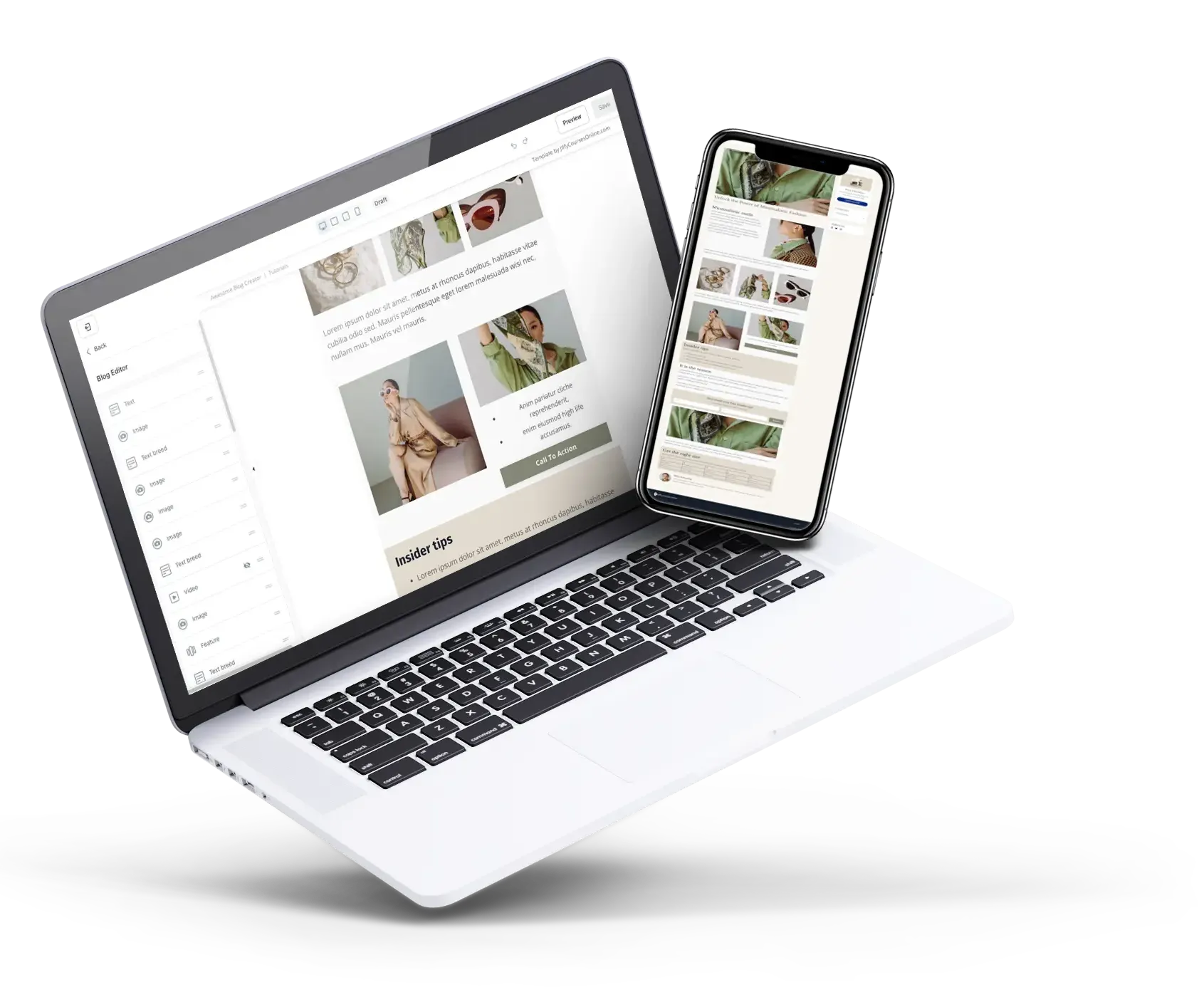 Let's highlight some features of the
Awesome Blog Creator☟
Visual Freedom
---
You can seamlessly combine blocks with text and images. Do you want to align three images in a row or put a text block beside an image? Go ahead! You can add different colors to every single block to match it perfectly with your branding.
You blogs will really draw attention. 
Create Interaction
---
Easily add CTA buttons to your blog posts. Whether within feature cards, pricing cards, or any section you desire 
But here's the real game changer: the ability to embed opt-in forms right in your blog posts! Image an opt-in with a free-bee boosting our email list. It's not just a tool; it's a game-changer for your marketing strategy. 
Familiair options!
---
These content options you already know from building a landing page. They will be available for you when creating your blog:
Audio and  Video
 Blog posts
Accordion menus
Assesments
Link lists
Offer
Pricing cards
New possibilities!
---
We've added brand new content options! 
You can give your readers the change to learn to know you by leaving your author card. Also perfect if you have guest bloggers! 
And this one is unique and very practical: You can add a table to your blog with up to five columns. 
That is awesome! I just can't wait!! 
I want my name on the waitlist!
Leave your name on the waitlist and you'll get early access with an exclusive discount offer. No strings attached.