The most advanced gamification template 

to transform your Kajabi course or membership 

into a learning adventure.
MEET
Kajabi Gamify Pro
Are you a course creator or membership owner..
Looking for ways to inspire and encourage your students and members?
Looking for ways to let them finish the course, just as motivated as they started it?
Looking for ways to turn your course or membership into an adventure?
Then you've come to the right place!
Gamification techniques have proven to be very successful in boosting the learning outcomes and retention rates of courses and memberships. Nearly 70% of students prefer gamified learning experiences over traditional education methods. 
Kajabi Gamify Pro offers the most extensive toolkit for Kajabi to add Gamification elements throughout your course or membership. Create an  unforgettable learning experience and students that will come back for more!
Kajabi Gamify Pro is integrated within Kajabi, making it  very easy to install and implement.  No worries and no external tools needed. 
Let's see what you can achieve with some of the amazing features. 
With Kajabi Gamify Pro, you can ☟
Boost Motivation
---
Grant your students as many badges as you need to cheer them on every step of the way.
Earning a badge will give your students that little nudge of endorphins. Helping them to go on.
Raise Confidence
---
Reward your students with  unlimited certificates.
Giving your students recognition for the big steps they've taken, will boost self-confidence.
Unleash the Explorer
---
Hide secret surprises or rewards to encourage students or members to explore and discover hidden gems.
Easter Eggs will just create a sense of adventure. 
Celebrate Success
---
Celebrate your students' successes with confetti all over the screen. 
Just imagine the surprise and joy your students will feel. 
Watch this video 
and discover the world of Gamify Pro 
☟
Experience Kajabi Gamify Pro
Free Demo - Kajabi Gamify Pro
Are you curious about what gamification does to your students? Become a student yourself, enroll in our free demo course, and experience Kajabi Gamify Pro! Just enter your email address and you will receive login details for the free demo course.
I cannot say enough positive things about the Gamify Pro template. My membership is massive, spread across nearly 40 Kajabi products with nearly 5 years of content. I have been able to easily tweak the template to give individual sections a unique, streamlined look that is much more on brand than anything I've had before. Not only that, my students are very encouraged by having the visual progress tracker. I've not seen them this excited in a long time!
Even inside individual portions of the membership, I am able to display a "mini progress tracker" to let students see what each section will unlock for them. They tell me this is very encouraging! To finally have the ability to display locked links that unlock based on progress is, for me, a big win!
Not only is the template absolutely everything I've ever dreamed of for my membership, Bastiaan has been more than responsive when I've had technical support questions and requests for additional functionality. This purchase has been one of the best experiences I've had in a long, LONG time! Thank you!
Michelle Parsley - Elevate Your Art
Get the Kajabi Gamify Pro templates
We've created two versions of our Gamify Pro template: One based on Kajabi's Momentum and one based on Kajabi's Premier template.
Which template do you need?
Kajabi has 2 completely different course templates: Premier and Momentum. Both templates have their own possibilities and options. Both are great to use. So we customized both templates for gamification. But which suits your courses best? In the demo you can switch between the two templates.
Momentum Gamify Pro
This template is the upgrade for Kajabi Gamify Lite with sidebar
Momentum is a course template with a syllabus in its sidebar. This template is very useful if your students need to switch from one category to another with one click. This template is more useful in memberships if you have multiple categories like: lessons, Q&A, live sessions, replays, downloads etc.
With the Momentum Gamify template you get many more styling options than Kajabi offers. For example your syllabus can be collapsed to show your categories more organized.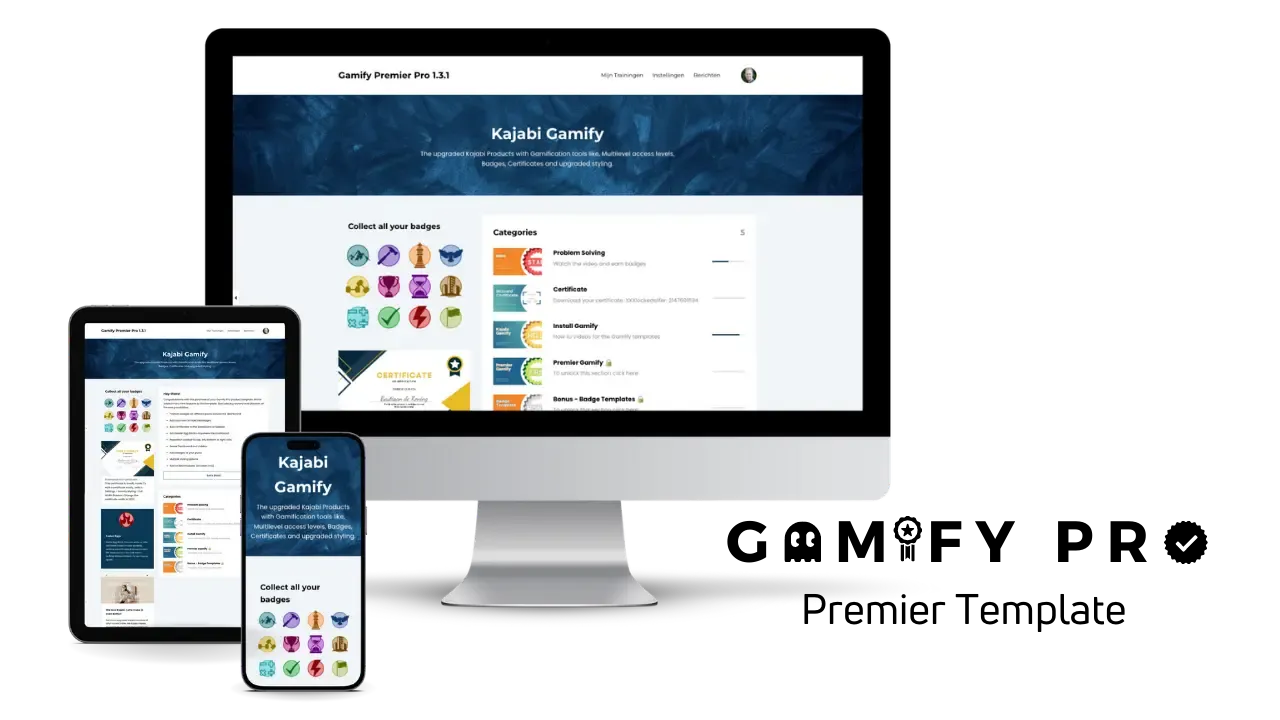 Premier Gamify Pro
This template is the upgrade for Kajabi Gamify Lite (without sidebar)
The Kajabi Premier Course template is the most well-known course template, as Kajabi uses Premier as the default for new courses.
The Premier template is very structured and clean and gives a nice well-organized look right away. This template is more useful if your students follow a lineair curriculum. Such as week 1 with 4 lessons, week 2 with 4 lessons etc.
Premier Gamify template allows you to restyle your template and sidebar, show the badges on top of your course or in the sidebar.
Christina Haftman
"I am loving the new Gamify Pro Momentum product template! With colorful digital badges and certificates of completion. They are awarded automatically and triggered by completion of predetermined milestones. This is going to make things a lot more fun, providing encouragement, positive reinforcement, and celebration along the way!"
Heidi Jane
"My members are loving our new and improved membership with Gamify Pro! The new features are exactly what I needed to get my membership looking more like a membership and less like a course!"
Eszter Godor
"Hey Bastiaan, it's Eszter here! I wanted to show you the amazing upgrade we made using your gamify theme. We applied it to almost all of our products, adding lessons, badges, and even confetti! We also created beautiful badges for each product and added navigation between them. It's a professional and exciting experience. Thank you for building such amazing products!"
With Gamify Pro you will get
Badges
Unlimited number of badges. You grant them to your students with automations. For example at the end of a lesson, a module, a quiz, or a..... The sky is the limit. 
Freedom to choose how you want to show the badges. You can adapt the size of your badges and place them on the left side, or on top of you product homepage. 
Certificates
Unlimited number of fully automated certificates. Just as many as you like to reward your student's progress. Your students can download and print it and they will love it!
Create your own look. You're free in the design, the size and fonts of your certificate.
You get three automated text fields: name student, date, and one free field.  
You can choose to reward a certificate based on the percentage of progression of your student. 
Easter Eggs
Easter Egg blocks. You can use these blocks to automatically grant bonuses to your students or members, based on their actions. You can choose to show them as an item not yet earned by your students. For example a hidden download page or a special bonus upsell. Or you can choose not to show them until your students have completed an extra task. Just image the surprise!
You can give your Easter Egg block any appearance you like. And there is no limit to the number of Easter Eggs you want to apply to your course or membership. 


Confetti
Never forget to celebrate! Gamify pro comes with fully automated all over the screen confetti. 
You get confetti in three different styles: school parade, fireworks and confetti canon.
You can use them at every step in your course to add some extra happiness. No limitations. 


Multi level products:
You get the option to use blocked content which your students have to earn first. 
Use it to create multiple levels within your course or membership.
Please note that the content will not be blocked in the Kajabi mobile app. 
Extra styling options:
Fully customizable header with text, name, buttons, and more.
You can add an image to your header.
You can display the badges at different places within the homepage of your product template.
With Premier you can also display badges in your course page.
Resizable comment section.
Resizable content section in your lessons.
Adjust background colors.
You can adjust the actions section under the lessons.
Resizable main and sidebar sections with the Momentum version.


Extra features:
We've added a custom CSS section if you want to go for the real stuff.
You can add a download button under the lessons.
Extra features in the sidebar (Momentum only):

Drop down navigation (accordeon)
Add link lists 
Add extra text blocks
And as a bonus!
We want to make sure you'll get the max out of Gamify Pro. If you buy the template, you'll receive a full video tutorial. Not only on how to install and implement the template, but with valuable insider tips. 
We want to make sure you get the best we have to offer. If you buy Gamify Pro today, you will get free updates and upgrades of Gamify Po for the next 12 months.
If you decide to implement both the Momentum and the Premier version of Gamify Pro, you will get a bundle discount of $ 127. 
Get the Kajabi Gamify Pro templates
The fee for this template is a one-time payment per website. After purchase you can use it as much as you like on one website. If you want to use it on more websites, you need to buy a separate copy for each website.
Guarantee
We understand that you may have concerns about getting your money back if our template is not what you were looking for. Due to the digital/instant nature of this template, we do not offer any refunds. We provide a demo version of Gamify Pro to give you a good idea of what to expect before making a purchase.
However, if you have any issues at all with this template or the service, please contact us and we can discuss. If the template is found to be faulty or there are issues with it that cannot be resolved, then a refund can be offered within 30 days from purchase. 
Need help?
Frequently asked questions
Can I use this template on more than one product?
Do I need to remake my products?
What is the trigger for the gamification badges?
Is it easy to install and implement?
Do i need to know how to use Kajabi?
What happens when Kajabi updates? Is there a possibility that certain elements do not work etc?
Are there tutorials on how this template works?
Can I get my money back when I don't use it?