Experience Gamification in Kajabi
Free Demo - Kajabi Gamification
Are you curious about what gamification does to your students? Become a student yourself and experience it. Just enter your email address and you will receive login details for the free demo.
Get your students to finish your course!
A WOW Experience!
Do your students stop before the end of your course? Are you looking for ways to encourage them to get the maximum out of your course? To WOW them, over and over again? Gamification might do the trick, but the Kajabi course templates offer limited gamification options. That's why we've taken the Kajabi course templates, both Momentum and Premier, to a whole new level. Playful templates that reward your students for every milestone they reach. With badges, certificates and unlockable content. And of course, we've added lots of styling options to make your life and your courses more colorful!
Watch the video and start your own demo as a student. WOW the possibilities.
I cannot say enough positive things about the Gamify Pro template. My membership is massive, spread across nearly 40 Kajabi products with nearly 5 years of content. I have been able to easily tweak the template to give individual sections a unique, streamlined look that is much more on brand than anything I've had before. Not only that, my students are very encouraged by having the visual progress tracker. I've not seen them this excited in a long time!
Even inside individual portions of the membership, I am able to display a "mini progress tracker" to let students see what each section will unlock for them. They tell me this is very encouraging! To finally have the ability to display locked links that unlock based on progress is, for me, a big win!
Not only is the template absolutely everything I've ever dreamed of for my membership, Bastiaan has been more than responsive when I've had technical support questions and requests for additional functionality. This purchase has been one of the best experiences I've had in a long, LONG time! Thank you!
Michelle Parsley - Elevate Your Art
Let's summarize some of the features you've always missed in the Kajabi templates,
but are here at your fingertips waiting to be used...
the Kajabi Gamifiy Pro Template ☟
Gamification Badges
---
This is the feature we love the most. A completely new section with customizable badges.
Students achieve better results when they are recognized for their efforts. You can upload your own custom badges. You decide when and how your students can get those beautiful colorful icons. Make your course more fun and playful.
Certificates
---
You can now add your own certificates to your training. Has your student completed a lesson, a course or an assessment? Reward them with a downloadable certificate with their name on it. You can create your own certificates in Canva and they are created in real time with a tool called NiftyImages. Easily integrate them into your course product.
Multi Level Kajabi Products
---
Bronze, silver and gold level, within 1 course? The Gamify template makes it very easy to apply multiple levels. The levels are displayed as locked content. Your students have to earn these extra levels. Very useful if you have a large course.
Note: Multi Level will not work within the Kajabi mobile app, but will work in mobile and desktop browsers.
New Styling Options
---
We love colors and page adjustments. And the standard Kajabi course themes don't have that many options. So we added them. On both the Momentum theme and the Premier theme. For example: You can adjust the size of the sidebar and lesson overview. You can add different and new custom blocks. You can display the badges anywhere within the theme. And there's a custom CSS section for real layout freaks that lets you tweak every detail in this template.
Easter Eggs & Upsell
---
This is really fun, but a bit more technical. Don't worry, we've got you. Think how nice it would be if you could show or hide blocks within your course based on the actions your students take. You can use them for upsells or downsells, you can add bonuses or create hidden download pages that will be unlocked when your students progress to the next level. We called them Offer Related Blocks, but Easter Eggs is way more fun! Creativity is yours!
Dropdown Navigation
---
Tired of all those lessons in your sidebar. Too big to handle. Wouldn't it be nicer if you had a drop-down navigation instead? Within the Momentum Gamify theme you can now collapse or expand the course overview with one click. It will make your course sidebar much easier to navigate.
Note: This is for Momentum only.
Which template do you need?
Kajabi has 2 completely different course templates: Premier and Momentum. Both templates have their own possibilities and options. Both are great to use. So we customized both templates for gamification. But which suits your courses best? In the demo you can switch between the two templates.
Momentum Gamify Pro
This template is the upgrade for Kajabi Gamify Lite with sidebar
Momentum is a course template with a syllabus in its sidebar. This template is very useful if your students need to switch from one category to another with one click. This template is more useful in memberships if you have multiple categories like: lessons, Q&A, live sessions, replays, downloads etc.
With the Momentum Gamify template you get many more styling options than Kajabi offers. For example your syllabus can be collapsed to show your categories more organized.
Premier Gamify Pro
This template is the upgrade for Kajabi Gamify Lite (without sidebar)
The Kajabi Premier Course template is the most well-known course template, as Kajabi uses Premier as the default for new courses.
The Premier template is very structured and clean and gives a nice well-organized look right away. This template is more useful if your students follow a lineair curriculum. Such as week 1 with 4 lessons, week 2 with 4 lessons etc.
Premier Gamify template allows you to restyle your template and sidebar, show the badges on top of your course or in the sidebar.
Just imagine!
More students that get the max out of your course
More students that come back for more
A code-level customized page without hiring an expensive developer
Your own fully automated badges and certificates, without external tools
Many extra styling options to give your course the WOW effect!
And as a bonus you receive our canva templates to create your own badges.
Experience Kajabi Gamify as if you were a student yourself, with our free demo.
I want to try the free demo
Implementation Package € 875
Implementing gamification into your course takes some serious brain time. Do you know after which milestone your students will receive a new badge, new content or their certificate? Then you have to make sure the right automations start at those moments. Would you like some help?
With the implementation package you'll save time and get an up and running gamification course.
Discuss the gamification options for your course.
Customize the colors and images of your Gamify template.
Add 6 badges to the course with 6 (ghost) offers with a simple notification email.
Add 1 certificate + (ghost) offer
Add 1 Easter egg block + (ghost) offer
Test all options
Discuss the results and 2 revisions
Not included are graphic/image design and copy writing, but we can add your copy. Additional work is calculated on an hourly based price of € 75 an hour.
Graphics Package € 575
Don't have the time to create the images and graphics for your Gamify template & course? We can do it for you.
With this package you'll get all the graphics for your course.
We discuss your wishes in advance.
Style guide with colors, fonts, badges
Header image for your course home page
6 personalized badges in full color (unlocked) and gray style (locked)
4 module images
16 lesson images
Personalized certificate
2 Revisions
All images are optimized for web use.
Additional work like extra badges, images or other graphics is calculated on an hourly based price of € 75 an hour.
No Worries Package € 1497
Let us do the full package for you. We take care of the images and the implementation of your Gamify Pro template. And you get a great discount on the total price of € 250.
What's included?
Kajabi Gamify Template € 297
Graphics Package € 575
Implementation Package € 875
Total € 1747 for € 1497
Additional work is calculated on an hourly based price of € 75 an hour.
Be creative
Examples built with the Kajabi Gamify Pro template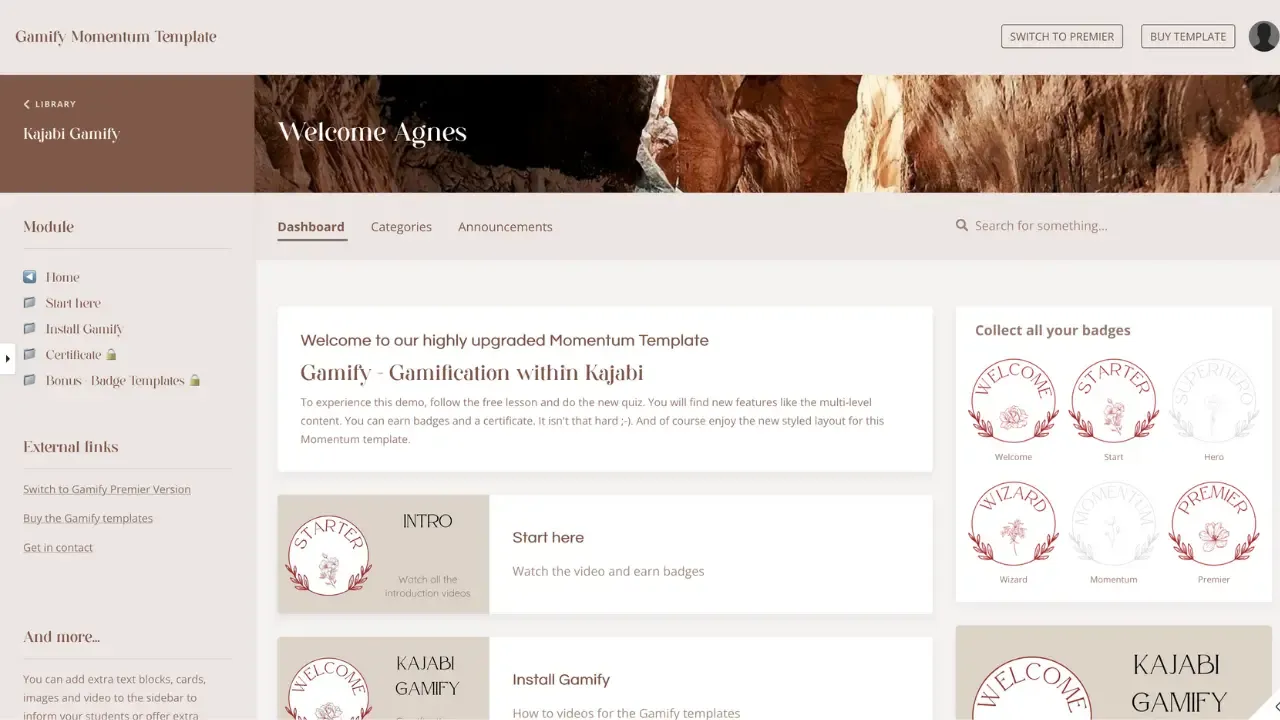 Need help?
Frequently asked questions
How is Vibely different from Gamify Pro?
Vibely brings a new level to the communities, but... these are community features and not courses, coaching, or automations. It will motivate your students to interact more with each other.
Gamification in Vibely community:
Challenges
Comments, responses, likes
Live online Meet-ups
Leaderboard for community actions
One on one chat
Vibely community will be a great addition to Kajabi but has little to do with the gamification options for courses.
How is Gamify Pro different from Vibely?
Gamify Pro is an upgraded course template. It wil motivate your students to go faster and get higher results. Gamification elements can be triggered by any action in Kajabi.
Gamification in Gamify Pro:
Customizable badges
Unlimited integrated certificates
Easter Eggs blocks for bonus content or upsells
Locked modules in browser mode
Many new styling options
The Kajabi Gamify pro templates bring a new level to your Kajabi courses and can be easily added to your existing courses.
How does this work? Is it a separate theme like Wordpress??
Do I need to remake my products?
How much work is it to install and use this theme?
Can you do the installation for me?
What is the trigger for the gamification badges?
I want much more gamification on my website, can you do that?
What happens when Kajabi updates? Is there a possibility that certain elements do not work etc?
Are there tutorials on how this theme works?
Do I get my money back when I don't use the theme?