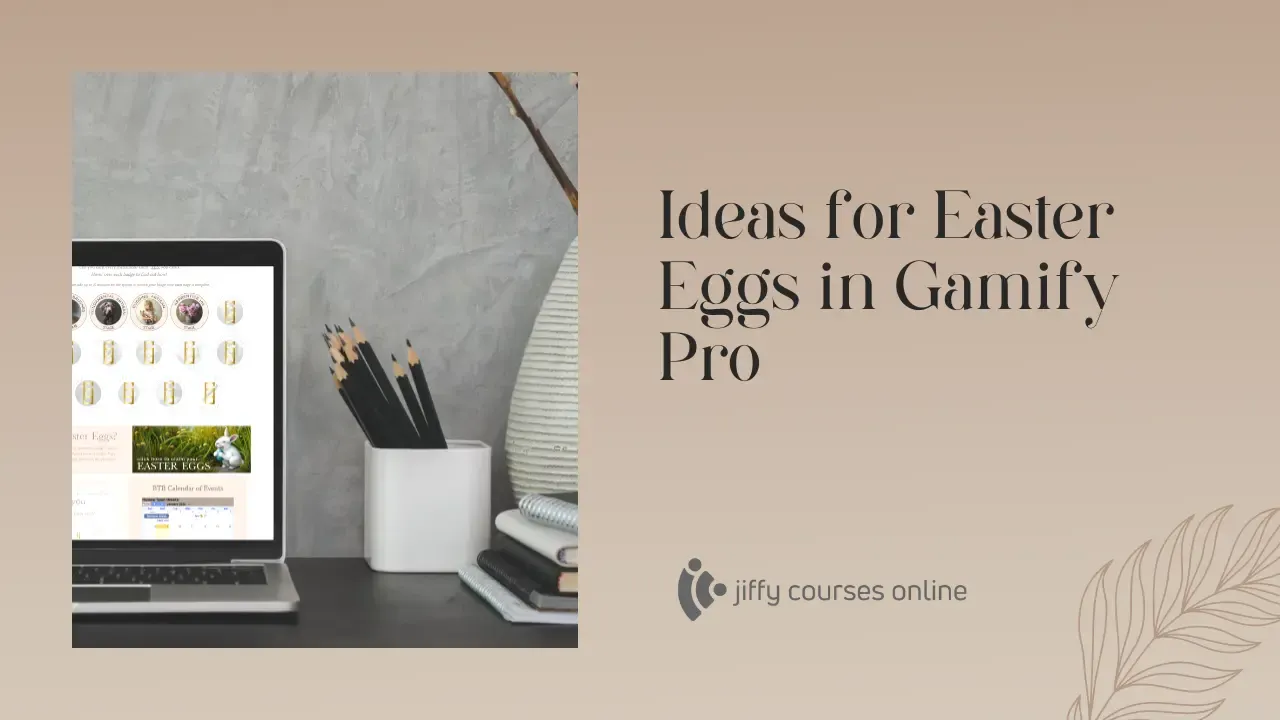 Ideas for Easter Eggs in Gamify Pro
May 05, 2023
Did you used to go looking for hidden Easter eggs during Easter? Or maybe you are a geo-cacher? Do you like to do a scavenger hunt? Looking for a hidden treasure or an escape route. Then your inner child can have his fun with the gamification template for Kajabi: Gamify Pro.
You may already know that you can assign badges. You can already use the badges with the Gamify Lite template found in your own Kajabi account. With the Gamify Pro template you can give students a stunning certificate. In this blog we would like to tell you about another feature in this template: Easter eggs blocks.
What are Easter eggs?
In the movie and game world, an Easter egg is a hidden surprise. In a movie, computer program, a game or on a website you can "hide" Easter eggs, as a kind of joke, hidden message or present. By paying close attention or searching, users can find or unlock these presents.
Why Easter Eggs for your online course?
An Easter egg creates a new game element in your online course. It adds a little mystery and sparks the curiosity of your students. Curiosity is the desire to explore, learn and discover new things. With an Easter egg you can tap into this great source of intrinsic motivation.
If you want to use the curiosity element in your course, you'll have to figure out three things:
How will your student know, there's a reward to be achieved?
What will the reward be?
What is the problem your student will have to solve to achieve the reward?
Once an Easter egg is found and the reward collected, your student will be tickled to find more.
7 Ideas for Easter Eggs rewards in your online course with Gamify Pro
Gamify Pro has the perfect tool if you want to add some mystery to your online course: Easter egg blocks. With this tool you can hide content until your student has solved the problem. You can also take it the other way around and show the content for as long as your student has not solved the puzzle. Or you can combine them both. The hidden content can be anything you like. Here are some great ideas:
Hidden badges. You can (also available in Gamify Lite) hide or use teaser badges until your student has unlocked them. This allows you to give extra badges for special actions or rewards, such as attending an event or webinar or having a coach call with you. If you show all the badges they can earn as teasers, they will be motivated to collect them all!

Reward your student with extra digital tools for attending live classes. For example, take a look at how Michelle Parsley uses Easter eggs on her website - Elevate Your Art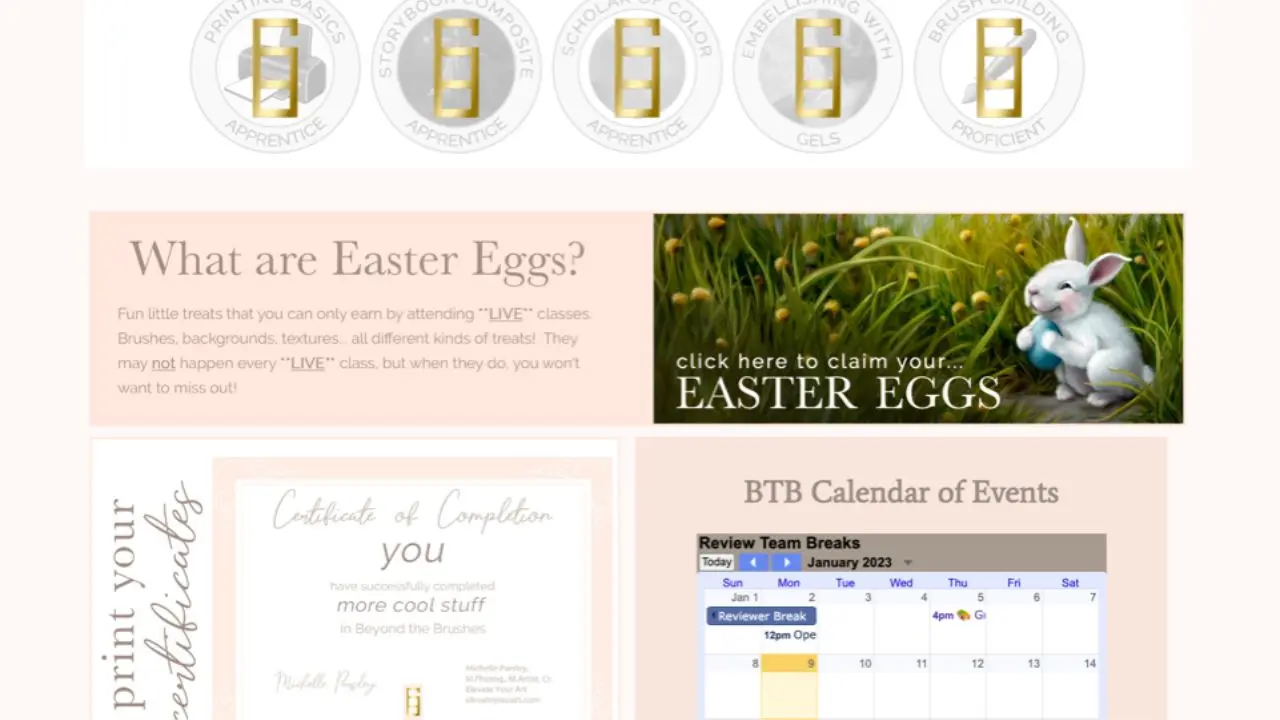 You can off a product upsell with an extra discount when a student reaches a certain level. Once the product is purchased or another level is reached, you can remove the offer again. This offer depends on your student's progress.
You can reward a student with a special video, after they finished an additional quiz to implement what they have learned.
At a certain level you can offer an extra coach session. In this way, you can connect with your student and your student will feel appreciated.
Depending on the lesson watched or the action, you can offer an extra e-book or pdf download that they can immediately access, such as an additional workbook or audio file.
You can add extra content for students who have a more expensive subscription to your course. Content that is only visible to gold-members for example.
One of the nicest possibilities is giving real gifts, such as merchandise. At the unlocked level, they get to see a new Easter egg block in their product why they can request and download their merchandise. How cool is it to receive something in the mai! This is an extra reason for many trainees to continue your training.
I promised you 7 great ideas, and now you have 8 😀!
Getting started with Easter Eggs in Gamify Pro
Do you also want to get started with Easter eggs in the Gamify Pro template? We have developed the template in two versions, for both the Momentum and Premier template. Read all about Kajabi Gamify here and watch the short introduction video in which Bastiaan shows you the possibilities of this playful template.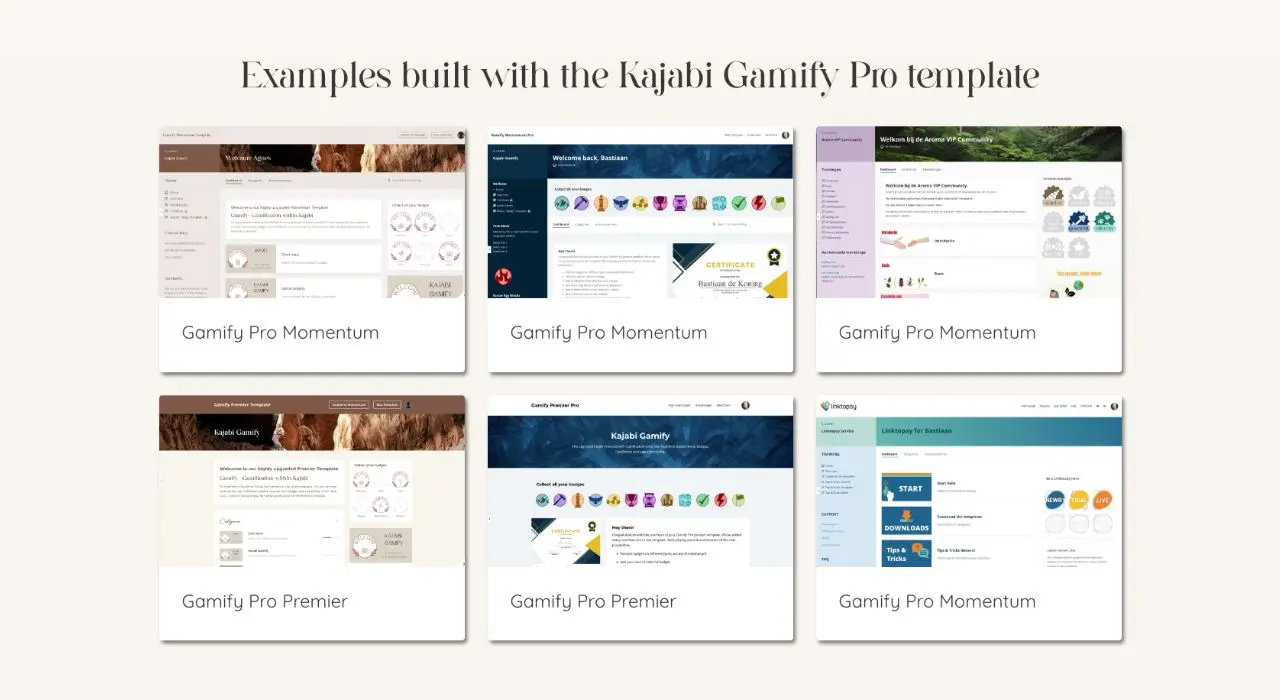 Already sold? We totally understand! Click here to purchase the Kajabi Gamify template. We now have an amazing combi-deal. Kajabi Gamify for Premier and Momentum with a discount of €100!
Yes, I want Gamify Pro with a discount
We're curious to see your custom certificates. If you have any questions, let us know!

Agnes & Bastiaan - Online Course & Kajabi Specialists since 2014

On this Jiffy website we share some of our best templates to take your Kajabi to the Next Level. Plus stylish templates to make your website, landingspages and products look amazing in a jiffy. Have a question? Send us a message, because we love a challenge!
Contact us