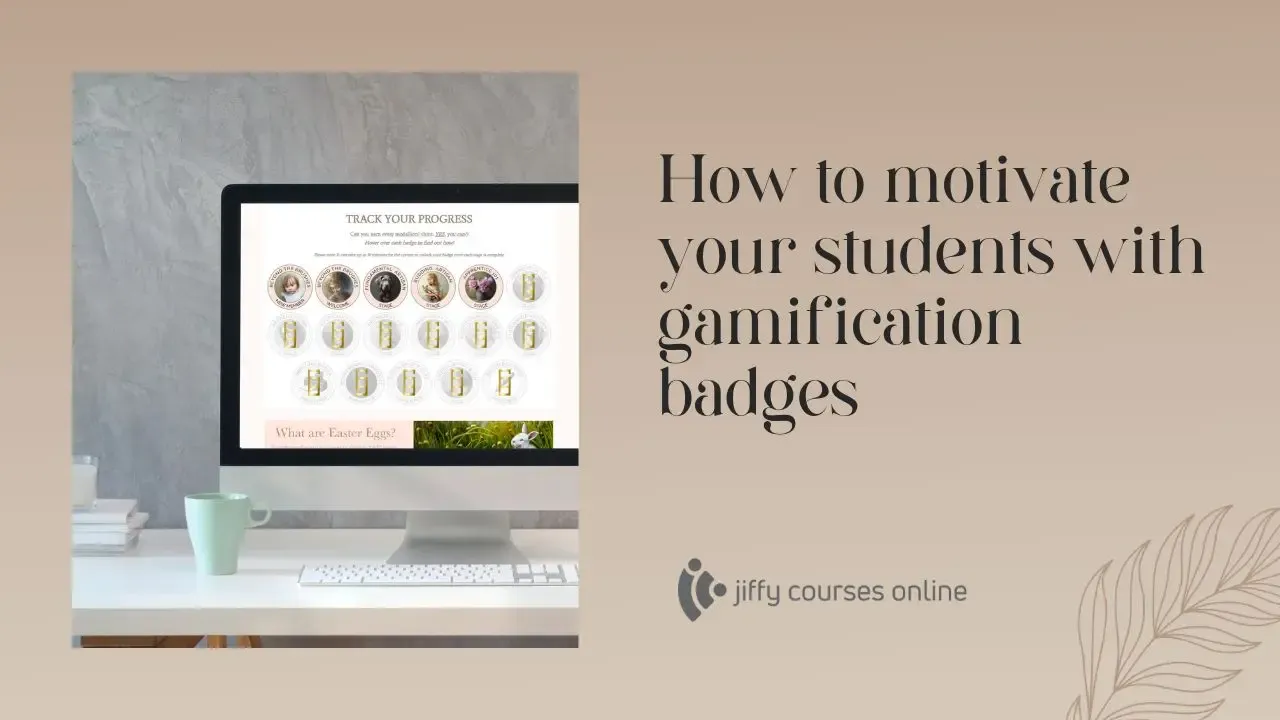 How to motivate your students with gamification badges
Feb 27, 2023
Staying motivated while taking an online course is not easy for everyone. How did it go with you in elementary school, did you always get so happy when you got a sticker and a compliment? No matter the age, we all like to get confirmation that we are doing well. Something as small as a sticker serves as an extra motivation and can help us persevere and complete a course. The feeling of "collect them all" surfaces. And let's face it, you want to collect them all too, right? 😉
In your online course, you can also let your students earn stickers, although we prefer to call them 'badges' here.
In this blog a detailed explanation of what badges are, how you can use them, and we will give you some examples of badges from Kajabi Gamify users.

Gamify Lite - Free to install directly within your Kajabi app.
You can get started with badges directly within your current Kajabi account. Our Gamify Lite template is included in Kajabi's template overview. Want to know how it works? Check out the video on Youtube.
Gamify Pro - A very comprehensive update for your products
Want to completely style and upgrade your Kajabi course with gamification options? Then go for our template Gamify Pro. See also the examples below. Check out the demo here.
What are gamification badges?
Badges within gamification provide more motivation among your students and help them successfully complete your course. Badges are images that serve as some sort of digital stickers. Your students can earn these stickers by completing tasks, such as watching a lesson or completing an assessment.
What can you assign badges to?
Badges can be assigned to anything within Kajabi that you can invoke with an automation. The actions within Kajabi that you can reward are:
The student has completed a lesson;
The student has completed a quiz or assessment;
There has been a purchase, either purchased or granted;
The student has completed a form;
The student has registered for an event;
The student has opened a certain email and clicked through;
An email sequence has been sent or completed.
The actions outside Kajabi can be linked with Zapier, with that the possibilities are beyond limits.
7 Tips for creating badges for Kajabi Gamify
Some tips to keep in mind when you start creating your badges for Kajabi Gamify:
Set clear goals and objectives. What do you want people to achieve and in what way do you want to reward them for it?
Decide what type of badges you want to use and what each badge represents. Consider using a point system or levels to make people feel like they are making progress.
Make the badges visually appealing and make sure they are easy to recognize. Consider using color coding, graphics and eye-catching titles.
Make goals and objectives attainable and realistic. This will keep people motivated and engaged.
Offer regular feedback on people's progress and let your students know what they need to do to earn the next badge. This can be done within the course or via an email linked to the badges one earns.
Make it fun! By adding elements to the process, such as friendly competition, social interaction and humor, you can keep people engaged and motivated.
Keep updating and improving. Regularly update the reward system and improve as needed to keep people engaged and motivated. By including these elements in your gamification badges, you can effectively motivate people to achieve their goals.
8 examples of badges within Kajabi
Within the gamification template in Kajabi, you can use the standard badges provided. Or you can create your own designs, for example in Canva. To show you what is possible and to give you some inspiration, we would like to share with you some designs from Kajabi Gamify users.


Example 1 - Kajabi Users NL - Kajabi Gamify
Where it all began... Our first Kajabi Gamify badges. These are 'the originals' 😉.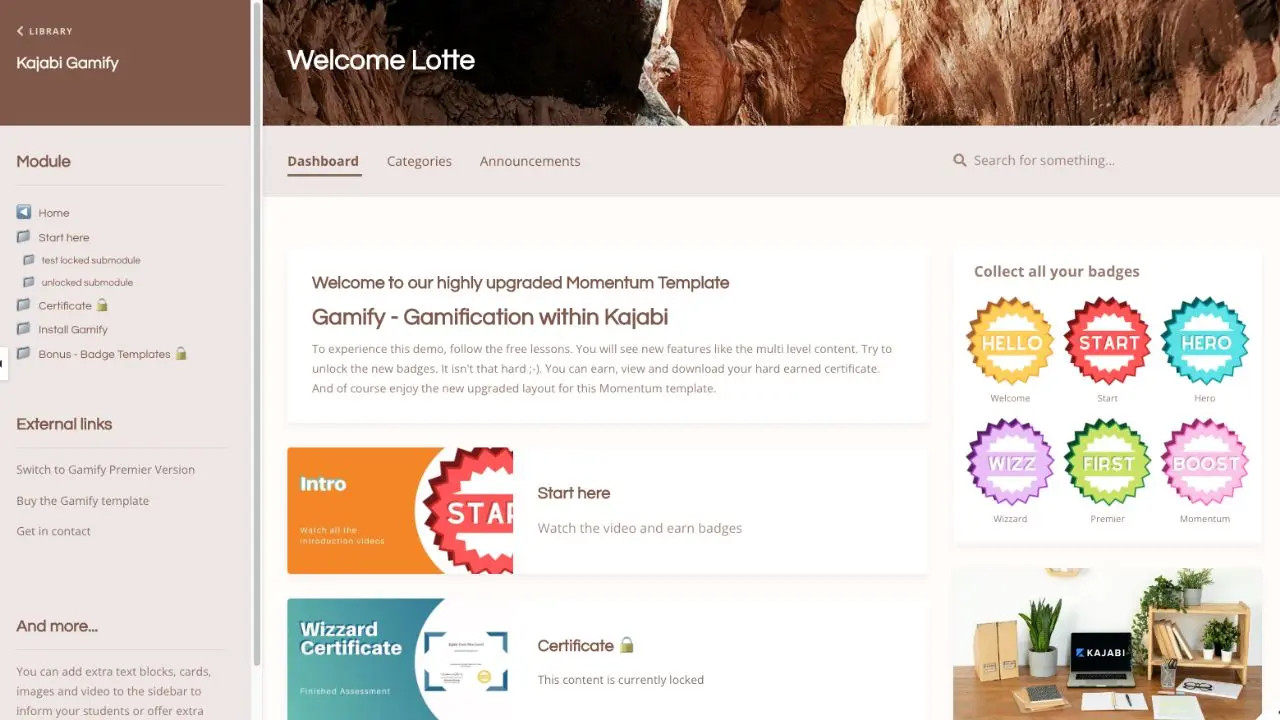 The badges each have a different trigger. One is triggered by watching a video, the other by installing a particular template. You get a badge for opening the course, one when you answer 50% of the questions within an assessment correctly, and one when you purchase a particular product. When a badge is earned, the student receives an email. An example of such an email: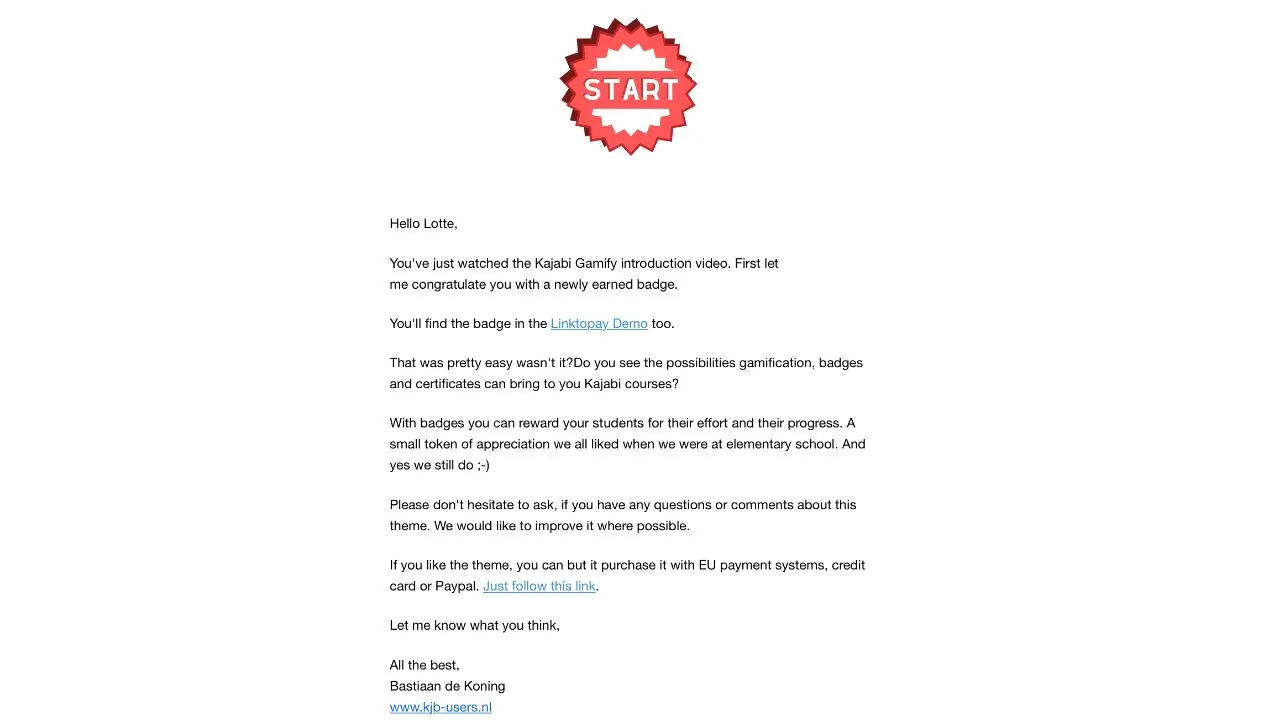 Example 2 - Leanne, Helio
Leanne is a good friend of ours and an enthusiastic user of the Kajabi Gamify template from the very first moment. The badges in her year program get triggered when a student finishes a module of the masterclasses.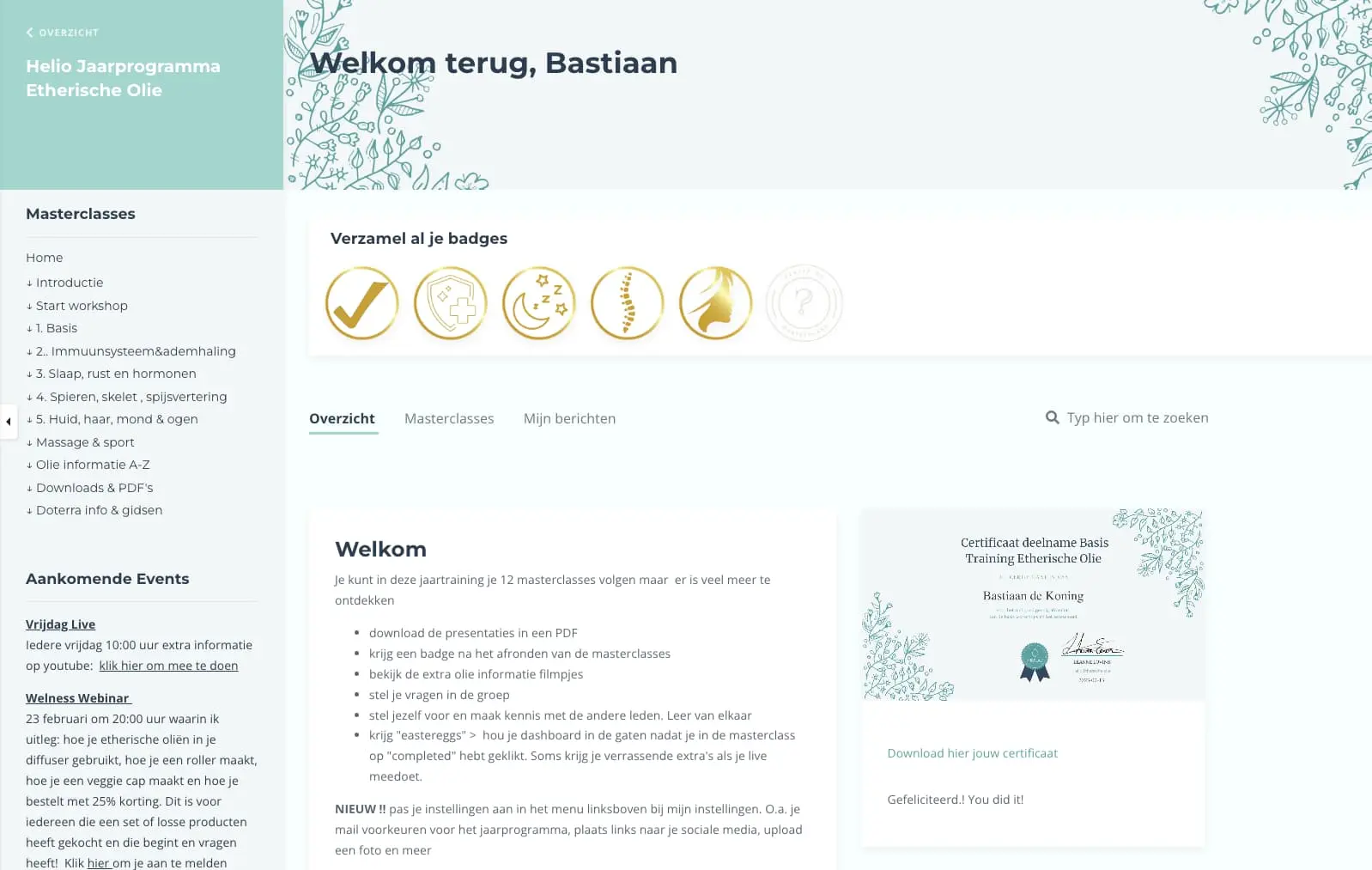 As you can see, she also provides a certificate, which is an option within Gamify Pro.

Example 3 - Carola, De Gelukkige Eter
Carola is a Dutch Kajabi user with whom we are currently working in our business Kajabi Users NL. She has designed her own badges for her online courses in the Eetgeluk Universiteit (Eat Happiness University).
Her membership is divided into year-long courses. Each semester, members receive a number of modules within a theme with various lessons. When a monthly module is completed, members receive a badge. When the full half-year module is completed, members receive a super badge and a motivational email to join the Eat Happiness University again the next (half) year.
Below is a small selection of badges from different years of the Eat Happiness University.
Example 4 - Masha Goins, Soulful Online Business Coach
Masha shared her badges in the Kajabi Hero Facebook group. They completely fit her online business, the Soulful Online Business Coach.
She gives her members badges for watching training videos and completing assignments. Some badges are simultaneously an easter egg. They appear only when certain assignments are completed.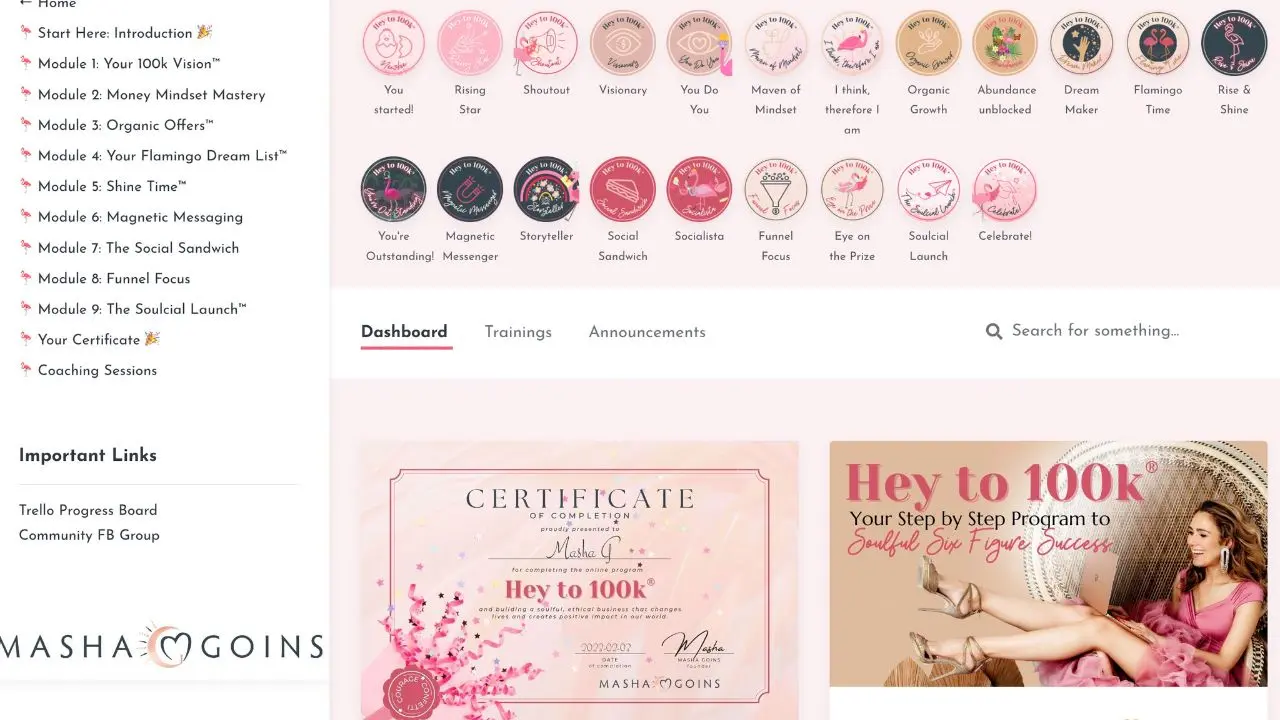 Masha's badges trigger an automation so that a motivational email is sent when a badge is earned. In this email, she also encourages people to log back in and continue the course.

Example 5 - Kajabi Users NL, Quick Start Training
You can make the number of badges as small or large as you want. In our Kajabi Quick Start training at Kajabi Users NL you can earn four badges: Trial, Styler, Wiki and Nerd. Each badge can be earned by completing a particular module.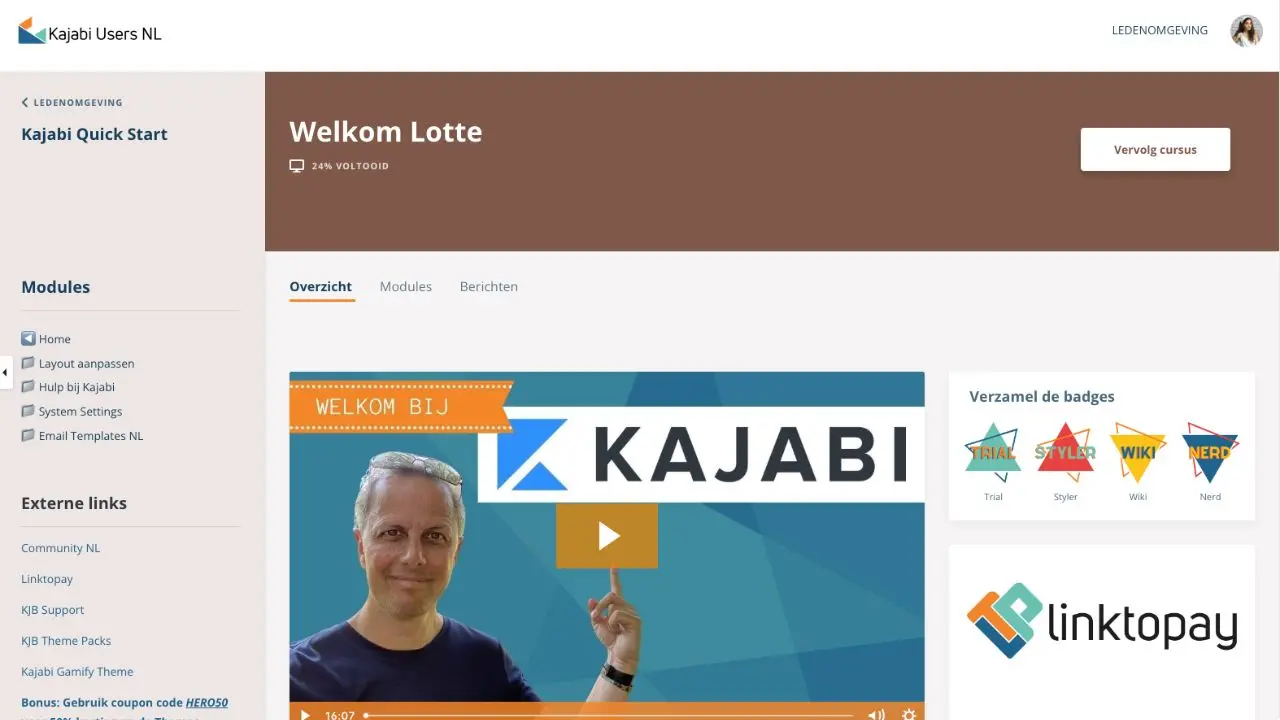 Example 6 - Diane Bleck, Doodle Institute
Diane used the Gamify Lite template for her 21 Doodle Days course. She gives away six badges: when you buy all six of her online courses, when all video lessons from the course are watched, when assignments are completed and when a student passes the Course Assessment.

Example 7 - Heidi Jane, Science of Reading 101
Within Heidi's membership, 11 badges can be earned. She uses her badges primarily for watching videos, completing lessons and taking quizzes. One of her badges can be earned by attending a live event.

Example 8 - Michelle Parsley, Elevate Your Art
Michelle uses the Gamify badges within her membership. This membership is huge, with nearly 40 Kajabi products and about five years of content. Michelle is wildly enthusiastic about the badges; she already noticed that her students get incredibly motivated by them. And rightly so, her badges are beautiful!
Michelle has Gamify Pro and therefore can also give away certificates and Easter Eggs. These Easter Eggs can be earned by attending Live classes:
Getting started with certificates in Gamify Pro
Do you also want to get started with certificates in the Gamify Pro template? We have developed the template in two versions, for both the Momentum and Premier template. Read all about Kajabi Gamify here and watch the short introduction video in which Bastiaan shows you the possibilities of this playful template.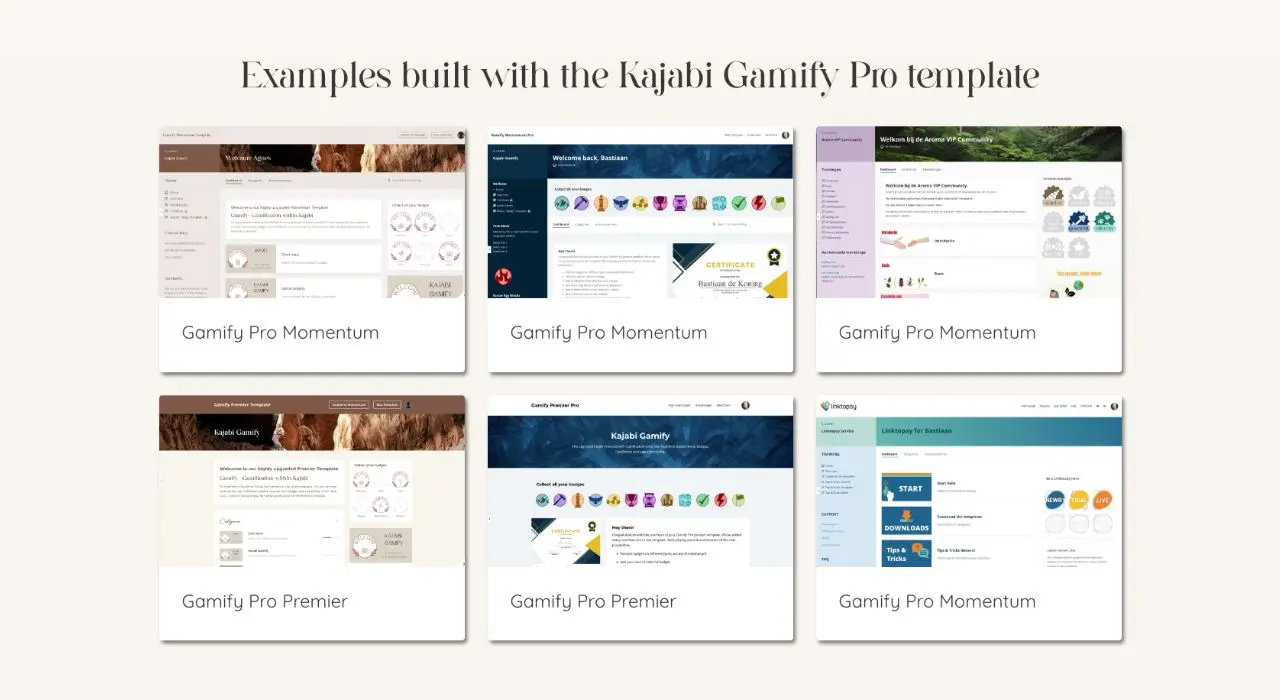 Already sold? We totally understand! Click here to purchase the Kajabi Gamify template. We now have an amazing combi-deal. Kajabi Gamify for Premier and Momentum with a discount of €100!
Yes, I want Gamify Pro with a discount
We're curious to see your custom certificates. If you have any questions, let us know!

Agnes & Bastiaan - Online Course & Kajabi Specialists since 2014

On this Jiffy website we share some of our best templates to take your Kajabi to the Next Level. Plus stylish templates to make your website, landingspages and products look amazing in a jiffy. Have a question? Send us a message, because we love a challenge!
Contact us